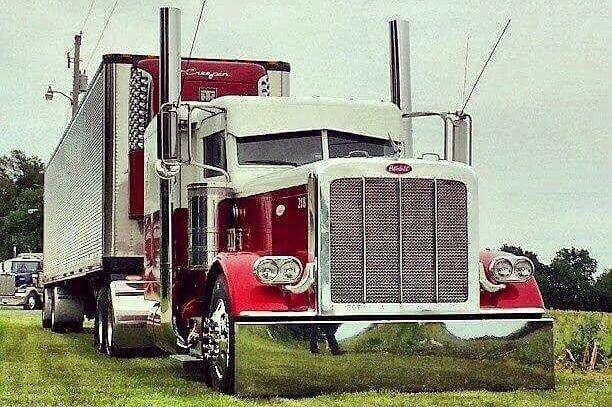 Engine Specifications
The 2007 model of Peterbilt 379 has a Caterpillar C-15 engine. This engine provides  trucks with a power of 475 horsepower . This new technology engine is what truckers need for extended highway driving. This six-cylinder engine features a four-stroke cycle diesel and a compression ratio of 18:1. This engine weighs about 2,890 lbs and runs on ten gallons of oil. This engine offers a range of features, including a  real-time clock, battery backup, cool weather startup and re-programmable operational parameters that may be set by the customer.
Physical Description
The 2007 Peterbilt 379 features a Unibilt sleeper cabin. It has 63 inches of space to stand up. This truck is made on a steel frame and offers a 250-inch wheel base. The steel frame and wide wheel base provide this truck with the strength and stability it has to haul large trailers. This truck has 22.5 LP tires that are mounted on aluminum wheels. The Peterbilt features an extended front and offers a range of interior packages, starting from cloth interiors to leather interiors, steering system and also the cab is provided with air con. The dashboard is designed to curve towards the truck driver. This way the driver can keep all controls at hand.
Mechanical Specifications
The 2007 Peterbilt 379 features a front axel capacity of 12,000 lb and a rear axel capacity of 38,000 lbs.  Fuel up with less frequency with the 100-gallon gasoline tank mileage varies by the terrain driven and by the weight the truck is hauling.
https://trucks-gallery.com/ is a website that its dedicated to trucking. Here you can find all kinds of facts about a truckers lifestyle, informations about different kind of trucks and so many more. All accompanied by a photo gallery. Also you can follow us in our Instagram Page:https://www.instagram.com/truckk_lovers/ We thank you all for your support.